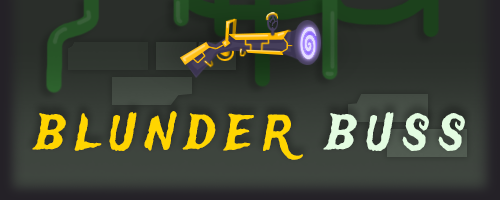 Blunderbuss
A downloadable game for Windows and macOS
You awake in an ancient temple after being shot out of a talking Blunderbuss who might be your father. He tells you that the evil Cincinnati Smith has stolen the temple's Idol; and without the Idol, the Blunderbuss is unstable. Pull the trigger and anything could emerge...
Blunderbuss is a game created for the Game Maker's Toolkit Jam with the theme "Dual Purpose Design" The game code, art, and audio was created in 48 hours. Here is the submission page!
The game should take around 10-15 minutes to complete. There is an ending so hang in there!
Controls
Mouse - Move Cursor and Shoot
WASD - Move Player Character
Tools Used
Unity3D
Visual Studio
Photoshop CC 2015
FL Studio (Kontact Factory Library 5)
Credits
Daniel Mullins - Art, Writing, Code
Stephen Corlett - Code
Brendan Walsh - Music, Sound Effects